NEWSROOM (영문)
[Industry Trends] "Every citizen should feel a sense of utility..." 42dot prepares for 'public' transportation
: 3
: 오토메이션월드 관리자 : Tue, 27 June, 4:49 PM
[Industry Trends] "Every citizen should feel a sense of utility..." 42dot prepares for 'public' transportation
"Every citizen should feel a sense of utility..." 42dot prepares for 'public' transportation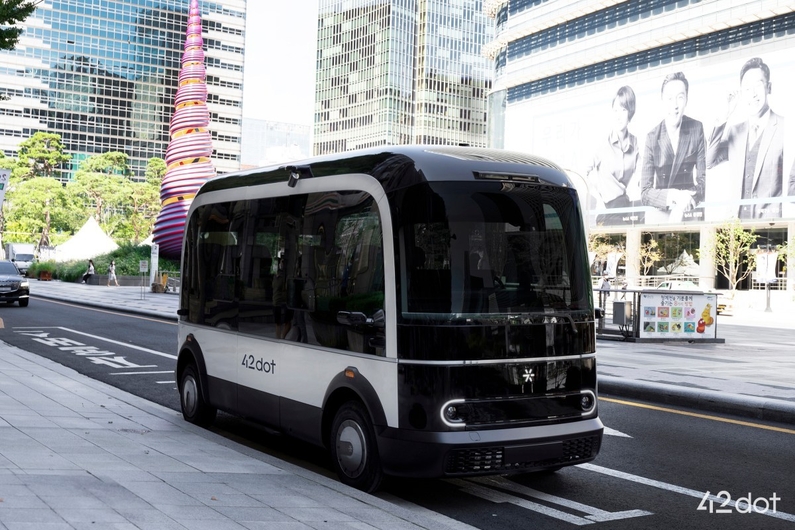 ▲ Autonomus shuttle that 42dot is operating in Sang-Am
Autonomous mobility start-up 42dot announced that it is working hard to create an autonomous driving service that all citizens can actually feel useful.
Min Kyu Kim, director of 42dot, said this as a presenter at the 2023 Autonomous Vehicle Standards and Industrial Strategy Seminar held in Grand Intercontinental Seoul Parnas on the 8th.
Founded in 2019, 42dot is a startup that provides autonomous driving mobility services based on UMOS (Urban Mobility Operating System) technology. Acquired by Hyundai Motor Group in 2022, it is in charge of developing Hyundai Motor Company's SDV (Software Defined Vehicle) platform as a global software center.
42dot, which was selected as the No. 1 operator of autonomous driving paid transportation service in Seoul in 2021 and the sole operator of autonomous driving platform, is currently operating a robot taxi in Sang-Am and a demand-responsive autonomous shuttle aDRT (autonomous-demand responsive transport) in Cheonggyecheon, which has the most complex traffic conditions in Seoul.
"We started the autonomous driving service in February 2022, and people began to use the autonomous driving service as we opened a shuttle bus service in Cheonggyecheon last November.," Kim said. He added, "The number of users exceeded 20,000 in April and is now on the verge of exceeding 30,000.
Director Kim expressed regret, saying, "Nevertheless, the autonomous driving service is still an experiential service." According to Kim, the re-boarding rate of the autonomous shuttle is still only 16%. Only 16 out of 100 people recognize and use autonomous shuttles as a practical means of transportation.
Kim pointed out, "We need to design routes based on citizens' movement data, but the reality is that the industry is still developing routes only where autonomous driving is technically possible."
Kim said, "The mobility problem will be the most important problem in the future due to the urban concentration phenomenon, and the way to solve it is autonomous driving services," adding, "The goal is to provide a service that many people can actually feel the efficacy of."
He continued, "It is important that autonomous driving services are not only used by special people, but also used by ordinary citizens and actually feel the sense of utility," emphasizing that the end point of technology development is ultimately a service.
Meanwhile, according to 42dot officials, 42dot plans to extend the autonomous shuttle route of Cheonggye Square to Se-un Shopping Street to Gwangjang Market in the second half of the year, allowing autonomous vehicles to travel up to Euljiro.
"Every citizen should feel a sense of utility..." 42dot prepares for 'public' transportation-HelloT (hellot.net)
Back to list