NEWSROOM (영문)
[Industry Trends] [Manufacturing AI-(2)] AI-driven digital transformation is an essential strategy for regulatory response... Expanding killer applications with data-sharing platforms
: 4
: 오토메이션월드 관리자 : Tue, 27 June, 4:55 PM
[Industry Trends] [Manufacturing AI-(2)] AI-driven digital transformation is an essential strategy for regulatory response... Expanding killer applications with data-sharing platforms
[Manufacturing AI-(2)] AI-driven digital transformation is an essential strategy for regulatory response... Expanding killer applications with data-sharing platforms
In recent years, global regulatory responses related to eco-friendliness have been strengthened. Companies need to use strategies for survival, and AI technology is emerging as a response strategy for this. In conservative manufacturing environments, digital transformation through AI technology is an essential strategy for regulatory response. At the AI Convergence Business Development Conference held on May 10th, Nuvx Vice President Kang Myung-koo summarized the presentation of 'Data Compatibility Strategy Between Companies for AI and Global Regulatory Response'.
Digital Transformation and AI
The transition from the analog to digital age has major turning points. For example, today's digital transformation that has gone through the stages like digitization that digitizes analog method of transformation from cassette tapes to MP3s and digitalization that allows you to buy online instead of offline stores, innovates businesses by creating new insights and values based on data, analytics, and machine learning. The core of this digital transformation is 'data' and 'AI technology.'
An example of digital transformation can be seen through the innovation of the entrance and exit system. The traditional entry/exit system was more like an analog system in which workers came to work and entered into the company's system. Today's stage of entering commuting information through RFID tagging, and furthermore, cameras recognizing workers, is the pinnacle of digital transformation. Moving away from the existing analog system and using technologies such as sensors, IIoT, DB, and machine learning together is a true digital transformation.
The expansion of AI through machine learning has been a key strategy for companies, but recent reports show that market expectations for digital transformation are significantly declining. According to the EU Expert Survey, issues related to data quality and cost, such as lack of technology, lack of data, and lack of data quality, are obstacles to the digital transformation of companies. This is because AI technology does not end in a one-time installation, but requires continuous costs and technical updates.
Nonetheless, it is clear why companies cannot abandon AI technology. This is because AI technology can provide clear demand forecasting, productivity, SCM accuracy, simulation accuracy, improvement of inspection methods, and prediction of equipment failures in advance.
Global Regulatory Status and Issues
In recent years, environmental regulations have been expanding across all industries. In addition to the carbon border adjustment scheme, the EU plans to gradually define legislation on carbon emissions throughout the product lifecycle, and only allow batteries that comply with EU battery regulations to be traded. To this end, by 2026, it is expected to digitize the entire life cycle information like production, use, disposal, reuse, and recycling.
The EU's regulation is a tightening of regulatory requirements with a willingness to reflect actual production data from existing inaccurate data. After all, regulation across all industries is directly related to survival, so building regulatory response solutions is the biggest challenge for companies.
The main body responsible for various regulations in the EU is the exporting company. In order to respond to various regulations required by the EU, it is also necessary to collect data not only on its own data (Scope 1 and 2) but also on the entire supply chain (Scope 3). Normally, only 10~20% of greenhouse gases are generated by the final export company, and most of the greenhouse gases are generated in Scope 3. However, it is difficult for exporting companies to collect data on the amount of greenhouse gases outside their own business area. This is because sharing confidential data is a sensitive topic to companies as it could lead to information leakage.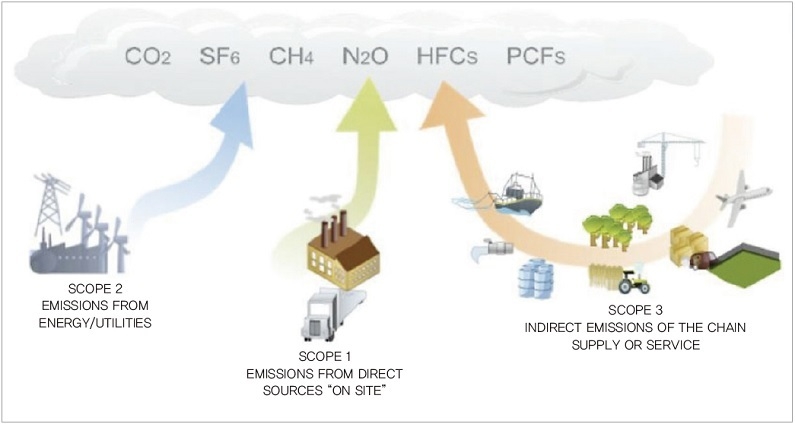 ▲ Distinguish the nature and scope of greenhouse gas emissions
Global Trends in Regulatory Response
Large domestic companies have traditionally used the method of installing a wide range of software and linking it to supplier data for submission. This existing method causes problems such as burden of software construction costs for large companies, difficulty in managing second-tier suppliers, and certification by international regulatory authorities. Suppliers had problems such as not being able to share sensitive data (productivity, inventory, quality data, etc.), which made it difficult to collect data smoothly.
Europe has created the 'Gaia-X' framework for the free movement of data. It is an ecosystem that is not tied to any cloud infrastructure and can freely interact with multiple corporate data. Gaia-X scales up the digital twin while being free from supply chain issues.
The Catena-X project is a data-compatible ecosystem between companies in the value chain, including companies based in the automotive industry and consumer companies. Catena-X employs standardized meta-model (AAS) and data-compatible connector (EDC) technology, allowing companies to share only the data they need for regulation while protecting sensitive data. With the application of Catena-X, it is possible to respond to environmental regulations such as CO2 and recycling through data compatibility between companies.
VCP-X, a comfortable and secure data ecosystem
Korea also needs a platform that can provide convenience and sensitive data protection from the perspective of the user. Nuvx's VCP-X is a platform that can be compatible with each other in line with the ongoing European Gatena-X direction. VCP-X consists of a cloud-data-compatible infrastructure and a subscription-based SaaS ecosystem.
Businesses can protect and keep their data safe, and they can only pay for what they use. With subscription-based SaaS, companies in the same value chain can share data with each other and respond to global regulations.
▲ Nuvx's data ecosystem platform 'VCP-X'
VCP-X has four main distinctions. First, it enables secure data sharing between suppliers. With just a common SaaS subscription, data can be aggregated up to Scope 3. As mentioned earlier, it was difficult for exporting companies to retain Scope 3 data, which included sensitive data. VCP-X protects each company's production and energy data and can only share the calculated values. Large companies do not have to build their own software, and cooperating suppliers can reduce security worries because the software is not created by large companies.
Second, VCP-X is a cloud-based ecosystem, so there are no software development, maintenance, repair, or sunk costs. Since it implemented usage-based pricing for the subscription period, the burden on the company is reduced. VCP-X utilizes a global infrastructure, so it can flexibly respond to overseas factories.
Third, since VCP-X is a SaaS ecosystem, it provides compatible scalability between enterprises. Since it delivers all the necessary data, it doesn't have to build the infrastructure for it every time. It will enable high-quality data sharing through AI technology.
Fourth, VCP-X is interoperable with global platforms and enterprises through SaaS subscriptions. We're constantly striving for more expansion and connectivity, and we'll be able to easily connect with even more companies in the future.
Efficient authentication is also possible through the SaaS ecosystem. The existing certification method required individual due diligence and certification for each company. With VCP-X, you can easily authenticate using one software jointly through SaaS SW verification and authentication.
VCP-X is a global regulatory response platform that can respond to Scope 3 and will be expanded to various industries. Scope 3 partners can share only the data they need while protecting sensitive data, while larger enterprises can subscribe at no cost.
[Manufacturing AI-(2)] AI-driven digital transformation is an essential strategy for regulatory response... Expanding killer applications with data-sharing platforms-HelloT (hellot.net)
Back to list